Certifications and Awards
The State Award
In 2016, Interlingua was presented with the Federal Coat of Arms of the Republic of Austria, in accordance with Section 68 of the Industrial Code.
The Austrian coat of arms is awarded to companies that have made a special contribution to Austria as a location and that occupy a leading and generally well-respected position in their industry.
EN ISO 9001:2015
In Autumn 2020, Interlingua was also certified according to EN ISO 9001:2015.
Customer satisfaction has always been the most important principle of quality management at Interlingua. Therefore, implementing the process-oriented quality management system according to EN ISO 9001:2015 was of particular importance to us.
As part of the certification, we were able to test and further optimise the professionalism and efficiency of our operational processes and procedures.
In this way, we ensure that we meet our own quality demands and those of our clients, sustainably and in the long term.
EN ISO 17100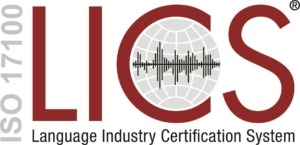 In 2006, Interlingua became the first translation service provider in Austria to be certified according to the international quality standard EN ISO 17100 and has, since then, continuously been successfully recertified.
Interlingua operates according to the strict requirements of the standard and even goes beyond them. Interlingua only employs professional translators and revisors, who have successfully completed their studies and/ or have many years of relevant experience.
In addition, the translators and revisors must also be both native speakers and experts in their respective fields. By doing this, we ensure that our customers' messages are conveyed appropriately and tailored to the target audience.